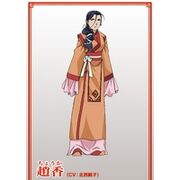 Originally from a foreign country but stowaway to the Ken Empire. She was then picked up by Keirou and now serves him loyally. Now a court lady attached to the Emperor where she guides the weak-willed Emperor to follow Keirou's wishes. She distrusts Ryuukou and Shokaku, despite them claims to serve Keirou. Shokaku deducts, apparently correctly, that she is in love with Keirou.
Ad blocker interference detected!
Wikia is a free-to-use site that makes money from advertising. We have a modified experience for viewers using ad blockers

Wikia is not accessible if you've made further modifications. Remove the custom ad blocker rule(s) and the page will load as expected.